>> Sunday, September 28, 2008
Clemson continues to underachieve under Bowden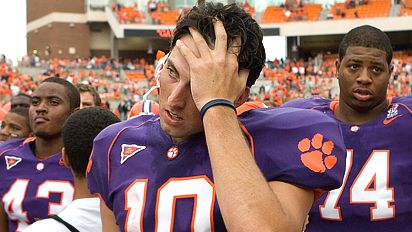 "Clemson, when ranked, has lost to an unranked team at home seven times now since 2000. All under Bowden."

Yeah... I'm pretty sure I was there for most of those games. 
I can understand that teams lose games all the time... and upsets happen all the time... but when you consistently win games on a "whim" basis, something is up. We win games because our talent is good enough that we're bound to win games... and then we lose a lot of games bc our talent sits on the field driving the same play and getting shut down bc of our predictability. Add into that our tendency to waste precious seconds looking confused and our coach's inability to rally the guys in crunch times...
Clemson lost the Maryland game because we made mistakes and we were outcoached. You can have the best talent in the world and still lose games when unfortunate penalties ransack the pride of your team. Clemson rallies when doing well... and falls apart otherwise. That's where coaching comes in to get the team over the hump. 
When will we ever get over the hump?
Read more...